Derrytransa Award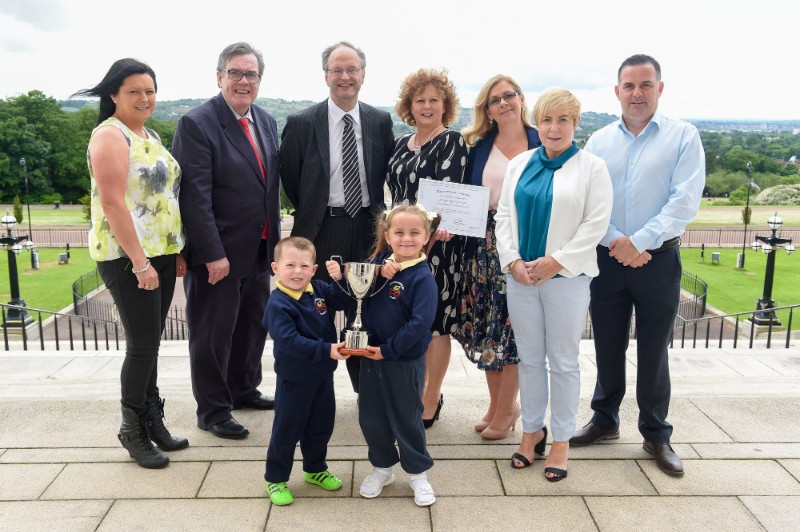 Education Minister, Peter Weir and Valerie Watts, Interim Chief Executive of the Public Health Agency, are encouraging more nominations for this year's awards.
The Derrytrasna Pastoral Care Award provides recognition to school communities that have demonstrated exceptional co-operative effort in supporting the pastoral care of pupils and their families. There is one award for the pre-school, primary and post-primary sectors.
Valerie O'Brien, Principal of Victoria Nursery School:
"The Derrytrasna Award for Exceptional Pastoral care 2016 for Victoria Nursery School was a most welcomed recognition of the contribution that our school is making in developing a more caring and responsive society. In achieving this award our vital role as teachers and educators of the youngest children in our education system is highlighted. The positive impact made on the lives of many children and their families whom we, as a school community, support in a variety of ways is valued and appreciated."
The Minister said:
"Exceptional pastoral care is about the help and support offered to pupils by teachers or the school community to the challenges and difficulties young people face today. Schools that go above and beyond to make a real difference to their pupils lives. There are many schools that provide exceptional care and should rightly be recognised for their important work in this area.
"The nominations received last year, demonstrate the value that communities place on our schools and I would encourage more entries this year."
Valerie Watts said:
"The Public Health Agency is delighted to be involved with the Derrytrasna Awards. Good pastoral care is integral to supporting pupils in terms of their personal and social development, including mental and emotional wellbeing, educational attainment and future life outcomes. Children who enjoy and thrive at school are more likely to achieve good qualifications, which in turn are more likely to lead to a fulfilling job directly benefitting health and quality of life. I look forward to hearing about the examples of outstanding practice through this year's nominations."